Mitsubishi Outlander Rear Inverter
Jump to navigation
Jump to search
Forum board: https://openinverter.org/forum/viewforum.php?f=19
Property
Value
Device
Inverter
OEM
Mitsubishi
Type
3 phase Motor inverter/controller & HV DC Junction Box
Part Number(s)
9410A067, 9410A081, 9499D140, 9410A163
Mitsubishi Module Name
REMCU[1]
Manufacturer
Meidensha[2]
Suppliers
Ebay
Voltage
300V DC Nominal supply voltage

(336V Max according to max battery voltage) [3]

Interfaces
1x Resolver/Motor Temperature sensor interface

Hirose GT18WB-14DP-HU - 14 way proprietary connector[4][5]

Black 1x 12V Power/CAN Bus Interface

Hirose GT18WB-14P-HU - 14 way proprietary connector

Grey

1x DC Bus Input - M10 Bolts with gland plate

1x 30A Fused DC Bus Junction Output - M10 Bolts with gland plate

1x 3 Phase motor output - M10 Bolts with gland plate

Mechanical Mounting
3x Lugs around lower face, M10 bolts multiple locations[6]
Resolver
Presumably matched to resolver on Outlander Rear Motor

SIN COS - P/N C69600/TS2239N484E102 Believed to be similar to Nissan Leaf resolver[7]

Cooling
Water/glycol cooling (Blue on Outlander)
Power
Unknown if continuous duty is based on inverter or motor thermal capability

70kW Peak

25kW Continuous

Weight
9kg[6]
Features
Integral 3-way DC fused Junction box (1 input, 2 fused outputs)

Water cooled

2x Coil temperature sensors

Wiring Diagram
[8][9]
3D Printable Parts
https://www.printables.com/@crasbe_360778/collections/563327
Vehicle Topology
Rear Motor Inverter (REMCU) is on EV-CAN with the following modules:
PHEV-ECU (Also on CAN-C, gatewayed through ETACS-ECU to CAN-C-Mid)
Front Power Drive Unit
Onboard charger/DC-DC Converter
A/C Compressor
Electrical Parking Driver Unit
Battery Management Unit
Can Bus Topology [10]
PHEV-ECU Handles the whole hybrid system management including drive mode, system torque distribution and battery management
Wiring Diagram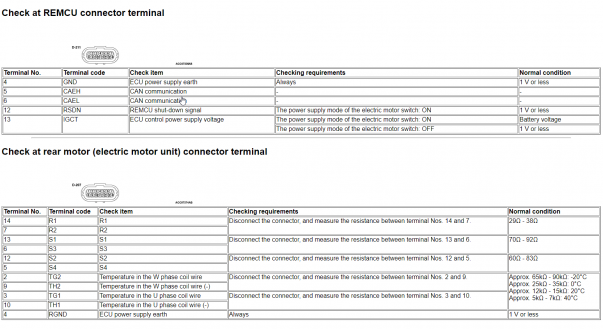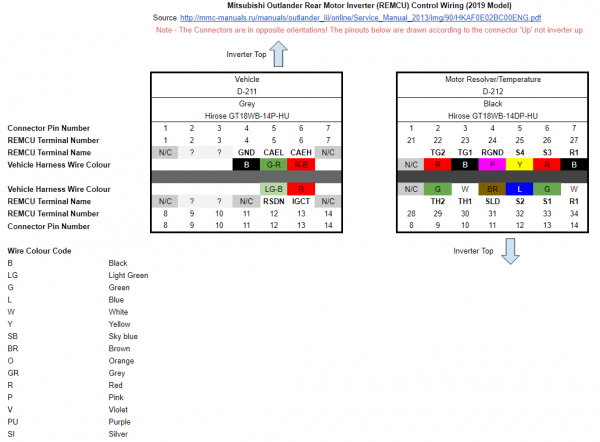 Wiring diagram to the right.
It would appear that there are 4 unused pins on the Vehicle Connector (D-211).
IGCT - ECU control power supply voltage
IGCT appears to be main ignition control relay - 12V
This is the supply voltage for the REMCU and should be supplied with battery voltage when turned on.
RSDN - REMCU shut-down signal
RSDN is a signal from the PHEV-ECU and is referred to as "REMCU shut-down signal" as part of the "Rear Motor Shutdown Circuit". It seems to be the equivalent of the MSDN signal from the PHEV-ECU to the Front Motor Controller. The RSDN signal could be used as a safety circuit. In normal operation, it should be pulled to low (1V or less).[11]
CAEH & CAEL - CAN Communication
Standard CAN bus, Baudrate 500KBaud??
Diagnostic Codes [12]
P1048 - Rear motor shutdown circuit [13]
The PHEV-ECU stores diagnosis code No. P1048 when the rear motor shut down circuit fails.

Check the wiring harness between PHEV-ECU (RSDN terminal) connector and the rear EMCU (RSDN terminal) connector.

Communication Protocol
CAN Bus with fallback to LIN and K-Line according to service manual
Authentication
The REMCU does not appear to require authentication with other modules, meaning it is a good candidate for stand-alone use from this point of view.
However, If one wished to take the whole Hybrid system including the PHEV-ECU for an EV conversion, this would be more challenging as the PHEV-ECU appears to require authentication with the OSS-ECU (One Touch Start ECU) and the KOS-ECU (Keyless entry)
Inverter Phase Connections
Based on information within the Service diagrams [14] the following HV phase connections have been identified on the inverter.
Inverter Phase Connections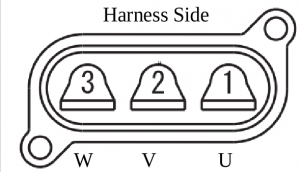 References