Toyota/Lexus GS300h CVT
Jump to navigation
Jump to search
NOTE : This motor is as of yet untested in a real world application.
Forum board : https://openinverter.org/forum/viewtopic.php?f=14&t=949#p15109
General overview : https://slideplayer.com/slide/14432904/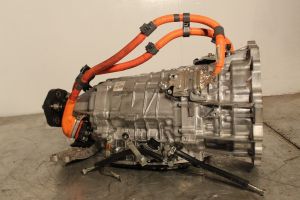 Description
The L210 is a continuously variable transmission (CVT) which can be found in the Lexus gs300h. It is very similar in design to the gs450h CVT. It contains two motor-generators - MG1 and MG2. When used as originally intended, MG1 is spun by the ICE, via a planetary gear system, and acts primarily as a generator. MG1 also acts as a starter motor for the ICE. MG2 is connected to the output shaft via a second planetary gear system to provide traction directly to the rear wheels.
The ratio between MG1 and the output shaft is 2.6:1. The ratio between MG2 and the output shaft is 3.333:1.
The official power output of the CVT is 105kW and 300Nm of torque, but this has yet to be tested.
For use in a pure EV application, the ICE input shaft can be locked stationary with a plate or bar. This allows traction to be provided by both MG1 and MG2.
Part Numbers
Part numbers include 30920-30030. The CVT can be found in the Lexus ES300h, Lexus IS300h, and Toyota Crown Hybrid. The matching inverter is part number G9200-30132, which is a Gen 3 inverter.
Dimensions
Bellhousing diameter =400 mm ,
Length bellhousing face to drive flange face 720mm
Diameter main body 330mm front to 250 rear
Tailshaft length 210mm
Weight 90kg
Oil pump
The L110 CVT, found in the gs450h, has two oil pumps. An internal mechanical pump and an external 12V electric pump. The internal mechanical oil pump is driven by the ICE. Locking the ICE input shaft to allow MG1 to provide traction means that the internal oil pump no longer functions. This makes the external 12V electric oil pump essential when using the CVT in a pure EV application.
One key difference between the L210 (gs300h) and the L110 (gs450h) is that the L210 only has an internal oil pump. However, the internal oil pump is driven by both the ICE and/or the rotation of MG2. So, even when you lock the ICE input shaft to allow MG1 to provide traction, MG2 will still drive the oil pump whenever the car moves. Since there are no gears/speeds in this CVT (and hence no clutch packs, etc.), the oil is only required for cooling and lubricating the bearings.
Connections
Left hand side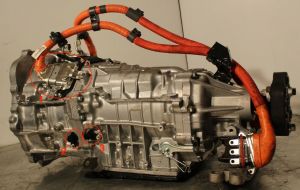 MG1 3-phase power connection
MG1 resolver (and temperature) port
MG2 resolver (and temperature) port
Right hand side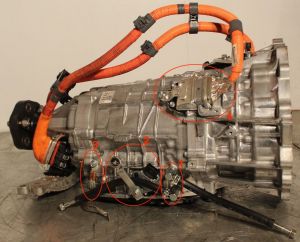 Input/output from/to oil cooler radiator
Mechanical shifter and shift sensor port
Ground strap
MG2 3-phase power connection
Resolvers
Sumitomo 6189-1240 8-WAY
1 2 3 4
White Red Yellow White
White Black Blue Green
5 6 7 8
1+5 Temp sensor , 2+6 ,3+7 Sin/Cos , 4+8 exciter . Both the same.
But check for yourself as per Damien's tuning video
Shift sensor
To do
Output flange
To do
ICE input shaft coupling
23mm shaft diameter , 21 spline
OEM numbers : Daihatsu 31250-14090; Lexus 31250-14010; Toyota 31250-12040;
Confirmed that Blueprint ADT33102 clutch plate or equivalent is a good fit.